PFT Samba XL Airless Plastering & Paint Sprayer
Call For latest Pricing
The PFT Samba Airless Sprayer and paint sprayers can be used with pretty much every construction paint and airless plasters. The Samba can be used in homes and can also be used on big commercial construction sites. Whether you want to use the PFT Samba to paint interior or exterior buildings  it brings together flexibility, perfection and along with easy handling which is due to the exclusive industrial technology. Paint spraying is becoming more and more popular as its much quicker than user a roller and  a brush and the finish is just as good and in a lot of cases a whole lot better than the traditional methods.
Where Can The PFT Samba Airless Sprayer Be Used?
The PFT Samba can be used for almost all painting and plastering  works like: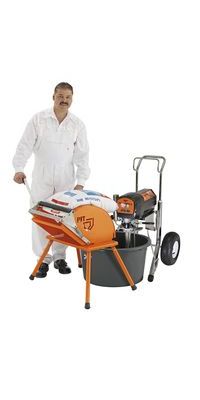 Acrylic paints water-based
Airless plastering systems
Acrylic paints solvent-activated
Interior / exterior dispersion paints
Taping and jointing by machine
Mesh adhesives
Silicate paints
Latex paints and emulsions
Advantages Of The PFT Samba Airless Sprayer
Advantages of owning a PFT Samba
robust and height-adjustable chassis
chrome-plated, stainless and corrosion-protected
hose holder integrated
easy cleaning and maintenance
without tools
brushless geared motor 230 V, 1 phase
self-priming pump
big pneumatic tires for comfortable transport
compact construction design, faster pressure increase for high capacity
best price and condition
The
PFT Samba paint airless plaster sprayer
is a very popular paint sprayer and that is for a good reason and that is because its a fantastic paint sprayer. We know that choosing the right machine can be difficult so if you do have any questions then please
contact us
, you can call us, email us or simply drop in to see us.
We also understand that it can sometimes be hard to afford such machines so we can also offer finance so that you can get on and start earning more money with your new Samba Paint Sprayer.