The Rotor & Stator are often called the PUMP Unit. The rotor inserts into the stator and is secured to the plastering machine. The top part will suck the mixed material into the pump unit and exit it at the bottom, where it is sent along the material hose and out of the spray gun.
The rotor and stator is a wearable part which need to be changed every so often.
By using different Rotors and stators we can change the output on the machine.
Original PFT rotor and stator
The heart of a mixing pump and a feed pump is choosing the right pump unit , also rotor / stator called. The pump unit consists of a screw mantle (stator) and a conveyor screw (rotor).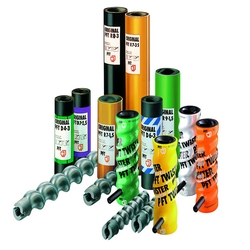 PFT are without doubt the best quality rotors and stators available in the market. You pay a bit more for the superior quality which means much more M2 between changes and less downtime. More Spraying = More £££
Overall, there are more than 200 original rotors and stators in a PFT quality and at economical prices. . Our stators are suitable for the pumping systems: A pump, B pump, C pump, D pump, R pump and T pump. The stators differ in design and in the field of application. To all stators, they get the appropriate rotors and, if necessary, the clamp and tie rod. Use our comprehensive article filter to find the right rotor / stator for your PFT machines even more easily.
Function of rotors and stators PFT